Say Goodbye To Bed Bugs, Guaranteed!
Of all the pests that can invade your home here in New Jersey, none are more dreaded than the infamous bed bug. Just the thought of them biting you as you sleep is enough to give anyone nightmares. If you find yourself with a bed bug infestation, your first thought may be to panic, but you don't need to! Ignoring the problem isn't a good approach, either. It's important to take care of a bed bug infestation right away as the problem will only continue to grow larger and larger the longer it is left untreated. So what do you do if bed bugs have found their way into your home? That's where the professional bed bug control services from the pest control professionals at Heritage Pest Control come in!
Our Bed Bug Treatment Options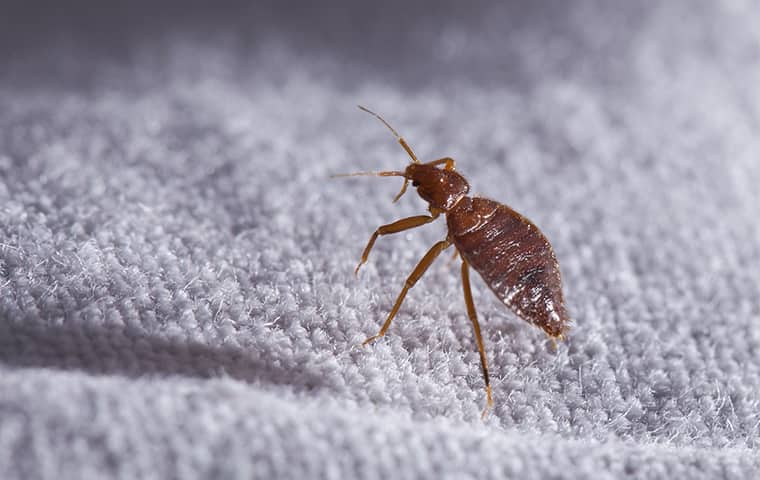 Here at Heritage Pest Control, we offer several bed bug control options to completely eliminate your bed bug problem. Our bed bug elimination team will work with you to determine the extent of your bed bug infestation which will aid us in determining which treatment option is the best fit for your specific needs.
Spray Treatments
For small, localized infestations, sometimes all that's needed to eliminate the bed bug infestation is a spray application in certain areas around your home or business. Our bed bug control experts use EPA-approved products that are known to effectively eliminate bed bugs. To ensure complete eradication, we'll return two weeks after the date of initial treatment to perform a re-application. This reinforces the effectiveness of our initial treatment and helps maintain the highest level of bed bug protection for your home or business.
Heat Treatments
Heat treatments are the safest, easiest, and most effective treatment option for bed bugs. During this treatment, your home will be heated to temperatures above 120 °F for several hours to ensure that all bed bugs in all stages of development (adults, larvae, eggs), no matter how deeply they're hidden within your walls, are eliminated. Our heat treatments require minimal preparation compared to traditional treatments.
When it comes to preparing for heat treatments, all you need to do to prepare is the following:
Open all the closet doors, drawers, and doors in your home.

Remove any aerosol can products from the premises.

Move any houseplants outside.

Put any oil paintings, candles, or waxy products that may melt outside or in a shed.

Turn your heat and/or air conditioning off.

Unplug any electrical appliances.
When you partner with us at Heritage Pest Control, we'll come to your home, conduct a quick walk-through to ensure that all problem items have been removed, and then heat your home to approximately 140 °F for three to four hours. While you'll need to leave your house while these treatments are performed, they are typically completed by 5 p.m., so you'll most likely be able to return home the same night as your treatment. For added peace of mind, we also apply products before and after the heat treatment to make sure that our services yield the best results possible. Furthermore, all of our heat treatments are warrantied, so you can rest easy knowing that you can trust our work!
Canine Inspections
If you're not sure how extensive your bed bug infestation is, or if you're not sure that your treatment was 100% effective, we also offer professional canine bed bug inspections. Our bed bug dogs and their handlers are specially-trained and highly-accurate at determining areas of bed bug activity within your home or business. When these inspections are performed, they make any further treatments that much more effective because we can accurately pinpoint the areas of bed bug activity when treating for them.
Heritage Pest Control Can Take Care Of All Your Bed Bug Control Needs!
For the past 30 years, Heritage Pest Control has been honing our expertise in providing effective and environmentally friendly pest control that causes as little disruption to the environment as possible. We adhere to an Integrated Pest Management (IPM) service, taking a comprehensive approach to the pest problems that plague commercial and residential properties throughout the northern New Jersey area. As a result, we are able to provide effective treatment options for a wide variety of common pests, including bed bugs.
At Heritage, we understand that hiring a pest control company can be a sensitive issue, which is why we take care to be discreet. We'll work with your busy schedule to provide the bed bug treatments needed to eliminate your infestation quickly and effectively, returning your property to its previous state. For more information, reach out to us today!
Contact Us for Pest Relief
Complete the form below to request your service.