Providing Professional Pest Control For Northern New Jersey Since 1989!
For the past 30 years, Heritage Pest Control has been providing efficient, effective, and environmentally friendly pest control solutions for residential and commercial properties in northern New Jersey. With continual training and recertifications for all of our technicians, we're confident that we can provide you with the best pest control experience in the area!
Why Choose Heritage Pest Control?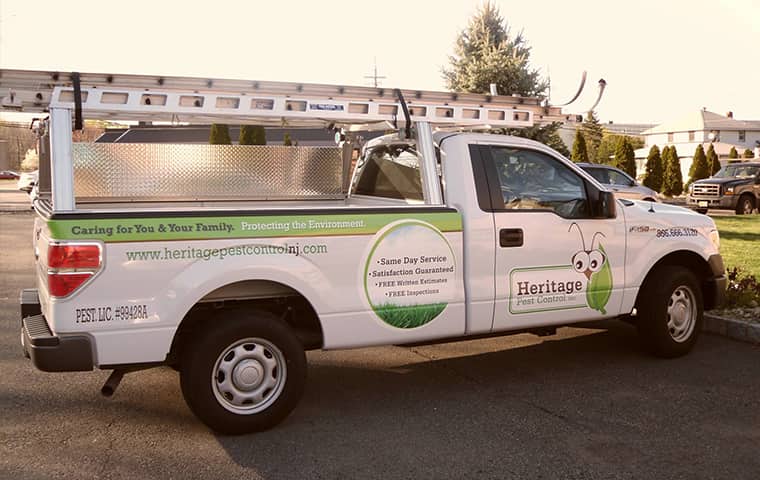 Choosing the right pest control company to protect your home or business is not a decision to make lightly. For the best results, you'll want to partner with a trusted company with years of experience, a proven track record, and the ability to eliminate pests without putting your customers, employees, or family at risk. As experienced professionals in the pest control industry, we understand the importance of choosing a pest control provider that will meet all of your pest control needs and strive to exceed your expectations with our quality service!

Here are just a few of the reasons to choose us at Heritage Pest Control:
We have an A+ rating from the Better Business Bureau.

We have bilingual pest control technicians on staff.

We use environmentally friendly exclusion and removal techniques.

We use minimally-invasive practices during our services.

All of the insecticides we use are EPA-approved.

We use exclusion methods along with our treatments whenever possible.

Our technicians are individually licensed by the state of New Jersey and must complete mandatory education hours to maintain their licenses.

Our technicians receive continual training on the most effective pest control methods.

We are Home Advisor and Angie's List-approved.

We are members of the New Jersey Pest Management Association and National Pest Management Association.
Keeping your family safe and your home pest-free is our top priority here at Heritage Pest Control. Our focus on environmentally friendly practices and materials ensures that when we treat for pests, we'll do so in a way that is not only effective at eliminating pests, but also in a way that is conscious of both the safety of your family and the environment.
Effective & Environmentally Friendly Pest Control Go Hand-In-Hand
For the past 30 years, the team here at Heritage Pest Control has been honing our expertise in providing effective pest control that causes as little disruption to the environment as possible. We don't believe these goals are mutually exclusive and our years of providing environmentally friendly and effective services for New Jersey properties back us up! If you're looking for quality pest control solutions for your New Jersey home or business, consider partnering with us at Heritage. For more information about our services, contact us!
Career Opportunities
Come join our team! We are looking for individuals who are problem solvers, have a good work ethic, enjoy working on the road independently, and enjoy being part of a team. Must possess a valid driver's license in good standing, be able to work with extension ladders, be willing to submit to drug and background test, and enjoy working with our customers. Possessing a pest control license is a plus, but we are willing to train the right candidate. We offer competitive salaries, paid training, paid sick days & vacation time, as well as medical and dental insurance. Standard work week is Monday to Friday, with some Saturdays required. Give us a call today or send us your resume if you think this is a good fit for you!
Contact Us for Pest Relief
Complete the form below to request your service.