Pest Control In Hackensack, New Jersey
With a population of a little over 44,000 residents, the city of Hackensack, NJ, is the perfect place to start or raise a family. And with its vibrant and urban feel, many young professionals live here. When it comes to pest control in Hackensack homes or businesses, calling for professional services is not up for debate if you know anything about the old saying of working smart, not hard.
At Heritage Pest Control, there's no job too big or too small for us. And because we're your top-rated Bergen county pest control experts, there's no pest problem we can't solve. Give us a call to protect your home or business.
Residential Pest Control In Hackensack, NJ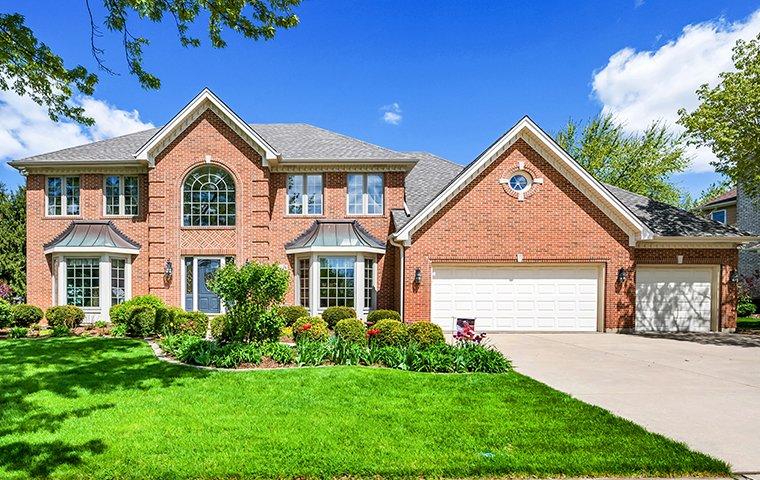 At Heritage Pest Control, we pride ourselves on our ability to provide our customers with pest control options to meet the unique needs of their homes. And that's because no one home is alike; therefore, we don't provide cookie-cutter solutions. We offer four different triannual home pest control programs to help Hackensack homeowners and renters alike gain peace of mind knowing their home is protected.
Here are our four triannual pest control programs:
Silver Triannual Program: Includes coverage for fire ants, pavement ants, centipedes, millipedes, silverfish, pill bugs, and ground beetles.
Gold Triannual Program: Includes all the benefits of the Silver Triannual Program and also provides coverage for stored product pests, carpet beetles, cloverleaf mites, fleas (indoor), ticks, spiders, and bees (within 10 ft of the home).
Platinum Triannual Program: Includes all the benefits of our Gold Triannual Program and provides coverage for cockroaches, mice, rats, stinging insects, and a variety of different ants, including acrobat ants, carpenter ants, citronella ants, odorous house ants, and Pharaoh ants.
Platinum Plus Triannual Program: Provides the highest level of pest protection available and includes all the benefits of our other programs PLUS termite control.
These programs include a renewable one-year service warranty, three annual service visits during the spring, summer, and fall, and coverage between service visits if needed. We also offer environmentally-friendly pest control options as well.
Whether you're looking for a one-time service or one of our triannual programs to keep your home pest-free year-round, our Heritage Pest Control experts can help. Reach out to request your quote.
Commercial Pest Control In Hackensack, NJ
As much as homes need pest control services, so do businesses, and probably even more! As a business owner, your business reputation is on the line, as well as the health and safety of your employees and customers, so considering whether or not to invest in commercial pest control should not be a discussion.
At Heritage Pest Control, our services are eco-friendly and minimally invasive, regardless of the industry. Here are a few of the establishments we have experience servicing:
Schools And Educational Facilities
Office Buildings
Hotels And Motels
Nursing Homes
Storage Buildings And Warehouses
Property Management
You name the establishment, and we've likely serviced it before, and if we haven't, remember, there's no pest or job we can't handle. You can expect bird, rodent, cockroach, termite, bed bug, and wood-destroying pest control with our commercial services. We also offer humane wildlife control services.
With such high risks involved with having pests in your business, you can count on us because not only are we A+ rated from the Better Business Bureau, but we're also members of the New Jersey Pest Management Associations. Our technicians are fully licensed by the state and maintain continuing education hours for environmentally-friendly products and removal techniques.
Pest control should be an essential component of your business operations. At Heritage Pest Control, you can rest assured knowing that we'll handle your pest issue in the most efficient way possible so that you can get back to running your business pest-free.
When To Expect Fleas Around Hackensack Homes And Yards
Fleas may not be as prevalent during the colder winter months, but these pests have no off-seasons and are always around to infest your Hackensack home, yard, and pets when they have the opportunity.
Fleas are tiny insects that survive by feeding on animals or human blood. Pets are at a much higher risk of flea infestation than you are because fleas prefer warm, fluffy animal hosts, but they feed on humans as well.
Practicing preventive strategies will go a long way in flea prevention. Keep your lawn cut low, and prune overgrown shrubs and bushes. Remove any rodent attractors and inspect yourself and your pets after outdoor activities. But none of these preventive measures will be as effective as professional flea control services from Heritage Pest Control. Get your services started by calling our team of experts to treat your home's interior and exterior today!
Ant Prevention And Control Tips From Hackensack Exterminators
Ants are one of the most common pests that invade Hackensack homes and businesses. And the worst part about ant infestations is that when they invade, it is in large numbers, making them harder to eliminate.
Other than wood-destroying ants, all other species of ants are in search of food. These pests hunt for food, and as they're searching, they leave a trail of pheromones that help other ants find their way to the food source as well. With that in mind, ant prevention is a much less stressful approach than ant removal.
However, when facing an ant infestation in your home, the only way to effectively eliminate them from your home is with ant control services from Heritage Pest Control. Still, you can consistently implement these prevention strategies:
Add weather stripping around doors and windows.
Seal off any gaps or cracks in your home's exterior.
Properly store all food and pet food when not in use.
Remove sources of water.
Ensure outdoor trash cans are securely closed.
Keep outdoor eating areas clean.
Even though these efforts may seem minimal, they can help protect you against ant invasions in your home or business. Call us today at Heritage Pest Control to set up your ant control appointment.
Is My Hackensack Home At Risk For Bed Bugs?
When you live in Hackensack, bed bug infestations are a potential reality. Bed bugs are parasitic pests that find a host to latch onto and use to hitchhike directly into a property. This can be problematic because it can mean that you end up with a bed bug outbreak without even knowing it. Bed bugs need human blood in order to survive, so they are typically found in public places that people frequent as well as homes. Some of the places where you might encounter bed bugs include schools, nursing homes, movie theaters, public transportation, stores, and restaurants. It's also possible to come across bed bugs at your place of work if a coworker has unknowingly brought bed bugs with them. If you bring any used furniture into your home, then you may be at further risk of an infestation because you might not have inspected these pieces or know about their previous whereabouts.
Bed bugs can also end up in your home if you live in an apartment building or duplex where you have shared walls with your neighbors. Bed bugs can easily make their way from one property to another through small crevices in foundations and walls. In this case, if your neighbor has bed bugs and the infestation grows too large, they may look to spread into your home. The best way to keep these invaders out of your home is with professional bed bug control from Heritage Pest Control. Call us today for more information.
What To Do If Wildlife Have Become Active Around Your Hackensack Home
Wildlife like raccoons, skunks, and bats can all take up shelter around your Hackensack home. Unfortunately, they can be the source of property damage as well as health issues for everyone in your home. If bats move into your attic they can leave behind guano, which may lead to histoplasmosis, while skunks can cause property damage and even spread parasitic pests. These animals are also notoriously unpredictable and essentially have free roam of your property.
If you notice any signs of wildlife, the best thing to do is call Heritage Pest Control. We have been dealing with local wildlife issues for more than 30 years, which makes us experts. Our company focuses on exclusionary methods that aim to prevent future wildlife issues and we also strive to cause limited disruption. For more information on wildlife control, call us today.
How Do Rodents Get Into Hackensack Properties?
Rodents are some of the most mischievous and determined pests in the Hackensack area and it doesn't take them a while to find a way into local properties. Some of the ways that rodents can enter homes and businesses include:
Very small openings: If properties have crevices around bulkheads, gaps around doors, or dime-sized cracks in foundations, both mice and rats will have little trouble gaining access.
Human error: Another very common way that rodents get into properties is when people simply leave doors, windows, and garages open and unattended. A home garage or a warehouse can hold items and areas that are very tempting to rodents. They will easily take advantage of these spaces if given the chance. Additionally, if windows are not protected with screens or have screens that have holes, they make entering a property much easier.
Sewer systems: The Norway rat is particularly adept at using sewer systems as a means to enter homes and properties. They navigate these belowground areas, which can make them even more challenging to prevent.
Landscaping: Rats are also very skilled climbers, so they may utilize trees or other greenery that come into contact with a property as a bridge to enter it.
For more information on rodent control, call Heritage Pest Control today.
Three Warning Signs Your Hackensack Home Has Termites
Termite problems are notoriously difficult to identify in Hackensack homes like yours because people often mistake their damage for signs of wear on an old house. Termites infiltrate the wood around your property and can proceed to eat away at it 24/7, which can lead to some significant issues. Here are three key signs that might point toward a termite infestation:
Trouble with wood: Because termites eat away at the wood around your home, their activity can lead to some noticeable issues. This may look like blistered wood, warped floors, being unable to close or open doors and windows, and having wood that looks shredded from mazes.
Piles of discarded wings: Termite swarmers are the winged reproductive members of the colony that leave their original colony in hopes of finding a new place to call home. Finding piles of these wings is problematic because it likely means that termites have mated, after which they lose their wings, and now they're searching for a new place to invade.
Other seemingly cosmetic damage: Termite activity can also look like peeling wallpaper, tiny holes in walls, and a funky moldy smell.
If you notice any of the aforementioned signs in your home, call Heritage Pest Control for termite control today.
Contact Us for Pest Relief
Complete the form below to request your service.